Lady Grenadey
---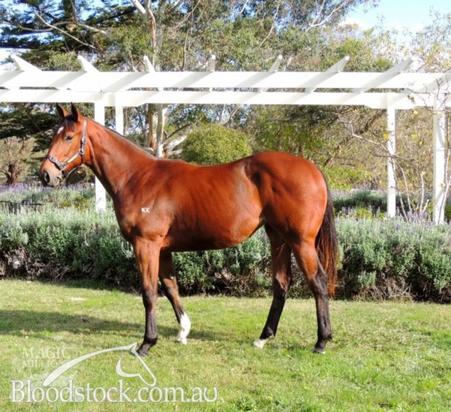 Sire: Stratum
Dam: Mrs Tangles
Colour: Bay
Gender: Filly
Age: 3 year old
Foaled: Nov 1st, 2014
Country: Australia
Trainer's Name: R F Cameron
---
Owners
Sean Cameron, Matt Coughlan, Liam Coventry-Poole, Virginia Edwards, Christine Forster, Brett Gavaghan, Jordan Guldon, Sam Nathan, Tom O'Conner, Josh Pound, Brett Robinson, James Robortella, Simon Salvatore
---
Pedigree
LADY GRENADEY (AUS)

Bay filly
Foaled in 2014

---

| | | | |
| --- | --- | --- | --- |
| Sire | Redoute's Choice | Danehill | Danzig |
| STRATUM (AUS) | | Shantha's Choice | Canny Lad |
| 2002 | Bourgeois | Luskin Star | Kaoru Star |
| | | Brave New World | Vain |
| Dam | Encosta de Lago | Fairy King | Northern Dancer |
| MRS TANGLES (AUS) | | Shoal Creek | Star Way |
| 2006 | Intertwined | Sir Tristram | Sir Ivor |
| | | Twining | Twig Moss |

---

STRATUM (AUS) (Bay 2002-Stud 2006). 2 wins at 2, STC Golden Slipper S., Gr.1. Leading Aust. Sire of 2YOs 2009-10. Sire of 608 rnrs, 412 wnrs, 34 SW, inc. Crystal Lily (STC Golden Slipper S., Gr.1), Streama, Stratum Star, Takedown, Southern Lord, Lucy Mae, Attention, Divine Calling, Unpretentious, Running Tall, Battle Hero, Enquare, Va Pensiero, Egyptian Symbol, Miss Wilson, I'm All the Talk, Misstrum, Straturbo, Texan, Precious Memories, etc.

1st dam

MRS TANGLES, by Encosta de Lago. Unraced. Three-quarter-sister to The Comedian, half-sister to HOW FUNNY (dam of JESTER'S GIRL), Dreaming On. Dam of three named foals, two to race, inc:-

Porto Santo (f. by Henrythenavigator). Placed at 3 in 2015-16, 3d SAJC Hughes Chauffeured Limos P.-twice.

Dukeuzi (g. by Duke of Marmalade). Placed at 3, 3d SAJC Medallion Homes P.

2nd dam

INTERTWINED, by Sir Tristram. 3 wins-1 at 2-to 1400m in Aust. Dam of 12 foals, 9 to race, 6 winners, inc:-

HOW FUNNY (Rory's Jester). 2 wins at 2, US$4,400, A$882,550, BTC Tommy Smith Slipper S., L, STC Join the STC Now 2YO H., 2d STC Golden Slipper S., Gr.1, Sweet Embrace S., Gr.3, GCTC Magic Millions 2YO Classic S., L. Dam of-

JESTER'S GIRL (Commands). 2 wins at 900m, 1200m, A$111,350, Qld Tatt's RC Travel Associates Classic, L, 2d BRC Just Now H., L, ATC SGE Credit Union H., Liverpool Catholic Club H. Producer.

The Comedian (Encosta de Lago). 10 wins to 1400m, A$64,475, S$551,627, 32,112Dhs, Singapore TC Tabcorp Holdings Limited Trophy, Panasonic Systems Professional S., Lim's Classic H., Open H., Punters' Way Anniversary Cup, Better Than Ever H., Progress H., 2d Singapore TC Committee's Prize, L, Hong Kong Jockey Club Trophy, Open H., MRC Barfleur H., Le Pine Funerals H., MVRC Pulse Pharmacy H., 3d Singapore TC EW Barker Trophy, L, Jolie's Shinju H., Open H.

Dreaming On (Marscay). Winner at 1400m, AJC Tellers H., 3d Gosford Classic, L, AJC Gallipoli H. Producer.

Hold Me Closer. 2 wins at 1300m, 1400m, ATC Membership on Sale Now H., 2d ATC Musir at Coolmore H., 3d ATC Big Brown First Crop H.

Magical Marscay. 2 wins at 1250m, 1600m, WATC Wembley H., 2d WATC Gilt Patten H.

Pura Seda. Winner at 1000m, SAJC Pope Packaging H., 2d MRC Minuetto H., Poitrina H., SAJC Christmas Twilight H., 3d MRC Princess Pushy H., Paisley H., MVRC Tabaret After the Last H., SAJC Silverline Security H. Dam of-

Sunny Shine - Call Me Awesome (H.K.). 2 wins at 1400m, 1600m in 2015-16, BOP RC Platinum Homes Tauranga H.

Magistrates' Court. 4 wins from 1100m to 1600m, A$82,034, 2d MRC Starcraft H.

Tarcoola Sunshine. Placed in Aust. Dam of-

Nightwatchman. Winner at 1300m, A$85,300, in 2016-17, WATC James Boag's Premium P., 2d WATC James Boag's Premium P., Salinger H.

Tarcoola Ice. Placed at 2 in Aust. Dam of-

Azzcool. 5 wins to 1200m, A$101,572, to 2015-16, SAJC Hindmarsh Plumbing H., 2d SAJC Jims Cleaning H., Oakbank RC Triple M H., 3d MVRC Sportingbet H., SAJC SCF Group H., Highway After Party H.

Cool Hero. 3 wins-1 at 2-at 1000m, 1200m to 2015-16, SAJC Dominant 2YO P., 3d MVRC National Jockeys Celebration Day H.

Priceless Diamond. Unraced. Dam of-

Magnarock (Magnus). Winner at 1200m in 2016-17, 2d VRC Poseidon S., L.

3rd dam

TWINING, by Twig Moss. 6 wins-3 at 2-from 1000m to 1600m, A$253,530, VRC Bloodhorse Breeders' P., Gr.2, AJC Emancipation S., L, Sledmere H., Dark Jewel H., MVRC Victoria Meat Supplies H., STC Ray Hadley H., 2d VRC Waltzing Lily H., L, STC Birthday Card H., L, SAJC Persian Carpet Gallery H., VATC Campbell Cash & Carry H., 3d STC Orlando Wines Classic, Gr.1, VATC Blue Diamond S., Gr.1, STC OTC Welter H., 4th VATC One Thousand Guineas, Gr.1, AJC Silver Shadow S., Gr.3. Half-sister to Another Call. Dam of 9 foals, 6 to race, all winners, inc:-

Horse Fortune. 6 wins from 1000m to 2000m in Macau, Macau Hupei H., 3d Macau Derby, Macau Spring Trophy.

Chicken Little. 5 wins to 1400m, QTC Desert Chill H., 2d BTC Acis Race Day H., McCullough Robertson Lawyers H., Qld Tatt's RC Hardy Brothers Jewellers H. Dam of-

Capital Commander (Commands). 9 wins from 1100m to 1600m, A$450,625, GCTC Magic Millions Quality H., ATC Snap Liverpool H., James Boag H., 2d ATC Nivison S., L.

Little Favours (Falvelon). 4 wins to 1050m, A$120,710, BRC Mount Franklin H., Eureka Stud H., 3d BRC Mick Dittman P., L.

Race Record:

Unraced.